【予選1st 第20ブロックA】OTONOVA2023 - Participation Report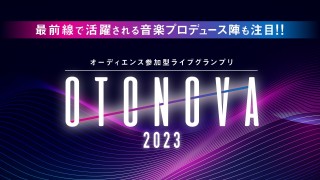 【予選1st 第20ブロックA】OTONOVA2023
開催日: 2022/11/18
【予選1st 第20ブロックA】OTONOVA2023 - Participation Report
I am very happy that Mudia exists and supports artists of all kinds. I am glad that events such as Otonova2023 are organised, which I am participating in for the first time.
As someone for whom life would be empty without music, I am even more excited about the Otonova2023 event and looking forward to all the performers taking part.
The course of the first qualification of this block 20 A was very interesting and exciting, as we were able to witness the confrontation of participants representing different musical genres and artistic achievements. It was also noticeable that the criteria for choosing to support a particular performer varied widely: admiration for their work, familiarity with a particular performer, following the majority of people.
Congratulations to all the performers taking part in Otonova2023 for their excellent participation! It was a really exciting duel, which in this group resulted in the following outcome:
Congratulations to Shinsuke Shiba for winning first place 🥇 in this qualifying group and advancing to the next stage. Please continue to give your best 💪 .
Shinsuke Shiba is a singer and songwriter born on 27 November 1989, originally from Saitama Prefecture. He began working as a cover singer for Anisong and Vocaloid songs in 2016. After his breakthrough performance at Nico Nico Chokaigi in 2019, he embarked on a tour of Tokyo, Nagoya and Osaka. After the tour, he began producing original songs while playing acoustic guitar. Special mention should be made of the fact that he perfectly combines both singing and playing guitar at the same time. In 2020, a double single release at the same time as his own solo show. Started distributing the release of a total of 4 songs. Released 1 ALBUM 'Diamond' in 2021. Single concert at Hatsudai Doors. Poorly released 2nd ALBUM "Focus" with concept music of different genres with each author. Released the first MV "CINEMA" on his Youtube channel (@teppotyann). There will be a solo concert at Shibuya eggman on 27 November 2022. He is good at singing based on hard rock represented by B'z. Currently active as a top liner with catchy melodies with a strong sense of loops and lyrics with unique worldviews.
I am very curious to see how his future will turn out in the Otonova2023 competition.
In second place with 11181 points was the band 少女S 🥈 Congratulations on advancing to the next stage! Please continue to give it your all 💪 .
少女S (Girls) is a the project of the band of singer "SATOKI" from Okinawa Prefecture. As a purveyor of the new music known as "the sound of paranoia", combining a unique sensibility and music in hard and melodic songs, the songs, which make heavy use of screams and growls focused on V-kei rock, are appealing. There are plenty of powerful rhythms during live performances, such as intense headbang, two-step and mosh, and there is no doubt that the sense of unity in the venue is addictive.
It is worth visiting their Youtube channel (@shoujo-S) to get a better idea of their work.
Third place along with 2688 points went to ストロベリー, 🥉 which is the young singer of the Kyoto-based family band Strawberries. She is in the fourth year of primary school and at Otonova2023 is probably the youngest participant.
By the decision of the audience, fourth place with no points score went to プラネットスカート.
Everyone in this group proved to be very strong and intriguing, from which it was difficult to choose two performers who . I'm rooting for the winners Shinsuke Shiba and 少女S, and I can't wait to see how they will fare in the Otonova2023 competition.